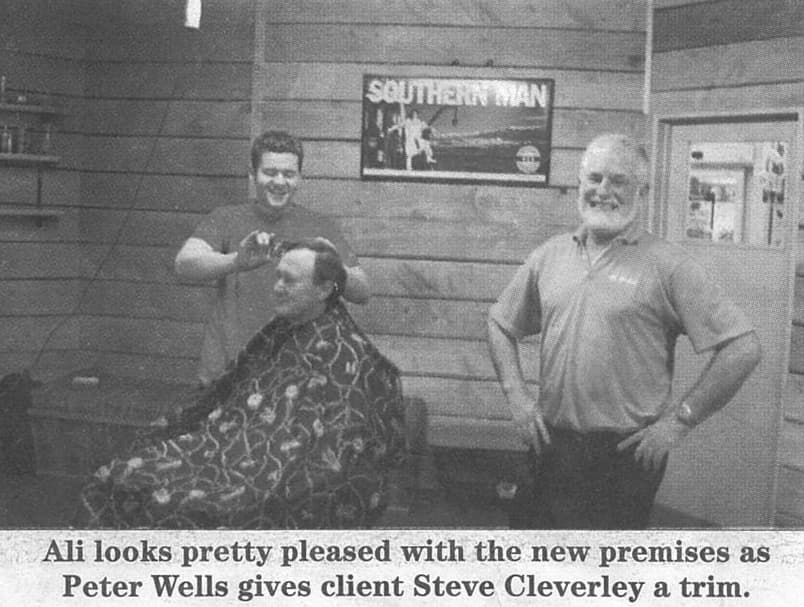 Alistair Howison (aka Ali Baba) moved from Dunedin to Wanaka in 1973.
While driving trucks part time for Upper Clutha Transport and gold mining in the Cardrona Valley, he started barbering from his home part time. On Tuesdays he could also be found at the local pub where he'd take his scissors and offer gents a cut while they supped their beverage of choice. Eventually, after a couple of shifts between premises early on, AliBaba's moved to Brownston Street where it remained as a single chair barber shop operation until one day in 2003 Peter Wells walked through the door.

Pete had come to Wanaka to visit a friend and do a ski season following an apple picking season in Nelson.
He'd been hairdressing for 6 years in Tauranga and wasn't planning on hairdressing when he arrived in town. But he quickly found that jobs options were limited in Wanaka during May. He went door to door for two days and kept getting rejected. He needed to find work before the end of the week or he was going to have to leave town.
Towards the end of that week, Pete spoke to a local hair salon about work with them. Unfortunately, they couldn't offer him work for another month. It was then that he noticed the barber shop a couple of doors down on Brownston St, so he thought he'd give it a try.
"One man band is it?" he said as he walked through the door. Ali was partially deaf and asked if Pete wanted a haircut. Wells replied again "No, one man band is it?"
"Yeah, why's that?" came the reply.
"I'm looking for a job."
"You can cut hair can you?"
"Yup."
"Oh, bullsh*t!"
Wells handed over his CV which obviously impressed the older man. "OK, you can start tomorrow."
The next day Ali watched Pete do a couple of haircuts. Suitably impressed, Ali went to Rarotonga for two weeks and asked Pete to look after the shop. The arrangement was that if he left Ali enough money to cover business costs, Pete could pocket the rest. Unsure of how it was going to go, Pete wondered about how busy business would actually be. "Turns out I'd never made so much money in my career up until then." While in Rarotonga, Ali fell off a scooter and broke a couple of ribs. He was a bit sore when he got back and told Pete he was looking for a young guy to take the reigns of the barber shop. He asked if Pete would like to buy the business. After such a fruitful couple of weeks, Pete said "Hell, yeah!" There was only one chair in the existing place. Ali did Mondays to Wednesdays, with Pete taking on Thursdays and Fridays, as well as opening the barber shop on Saturday mornings. Ali was a bit hesitant on opening up on the weekend, but Pete convinced him it was a good idea.

"Wanaka was pretty small back then,"
recalls Pete. You could walk into the shop and Ali would be a asleep on the waiting seats. He used to smoke inside too. He'd give a few interesting haircuts because he was partially deaf but he was an awesome barber". The pair used to go fishing on the lake. They'd hang a sign on the door saying 'Gone fishing. Open tomorrow'. "People were cool with that", Pete muses. At that time New World was looking to expand and so AliBabas had to move premises. The shop moved from Brownston Street to where it is now on Ardmore Street on 11 August 2003. Ali had written the date they moved into the new premises on the wall and hung a mirror over it.
Pete bought the business from Ali on 5 May 2004. Since then it has grown from 2 full time chairs to 4 full time chairs. The business has employed 15 people over the last 13 years and Pete can name all of them. Pete has continually sought to improve his skillset and drive the improvement of barbering in New Zealand through involvement in the industry training organisation. He is now working on developing his skills in business management. Out of this has come a refresh of the company name. Pete wanted to honour the history of Ali's contribution to the business, but make it a little clearer in the name what it was that the business offered. So with the help of a local marketing agency, in late 2017 he changed the name of the shop to Ali Barbers.
Throughout the years it has been the customers that have kept Pete passionate about the industry. "Yes I'm cutting hair all week, but each person's conversation is different and that makes every day different for me. It's the customers that make it."
https://alibarbers.co.nz/wp-content/uploads/Ali_Pete_NewPremises.jpg
635
826
pete
https://alibarbers.co.nz/wp-content/uploads/Alibarbers-600-white-padd2-300x150.png
pete
2017-12-07 18:47:00
2020-05-09 14:14:29
Alibabas … Ali Barbers story